by Ran Britt
Jacques Agnant was born in Haiti in 1963 to well-to-do parents who eventually---- politically-connected parents during President Jean-Claude Duvalier's regime. The family emigrated to the Brooklyn, New York neighborhood of Bedford-Stuyvesant following President Duvalier's overthrow in 1986.
Agnant

spoke only French when he arrived in the U.S., and was often bullied and chased home after school. Agnant assimilated quickly and began his criminal career as a teenager, robbing local drug dealers. His robbery ring, dubbed the Black Mafia, also included Walter "King Tut" Johnson.
Agnant eventually became the proprietor of a barbershop in Queens, located next to the Manhattan Proper bar. During this time, he hobnobbed with Brooklyn rapper Shawn "Little Shawn" Wilkins; former heavyweight boxing champion Mike Tyson; reggae artists Rexton "Shabba Ranks" Gordon and Mark Anthony "Buju Banton" Myrie; and pop singer Madonna.
Agnant met actor Tupac Shakur in Manhattan in early November, 1993. The two were introduced by an associate of Agnant's at a party at The Octagon nightclub. Agnant has stated that at the time he was only vaguely familiar with Shakur due to his growing reputation as a quasi-outlaw stemming from an incident on Halloween in which he shot police offi

cers Mark and Scott Whitwell, both off-duty at the time, in Atlanta, Georgia.
The then-22-year-old Oakland, California-based rapper was in town in order to give a concert at an Atlanta college when a confrontation ensued in traffic on the morning of October 31. According to witnesses, the Whitwell's and their wives were crossing the street when they were nearly struck by a passing car. The brothers then confronted the occupants of the vehicle, when Shakur and his party, in a separate vehicle, stopped to intervene. Witnesses said that Mark Whitwell then brandished a firearm.

W

hether he fired or not is in dispute. Shakur subsequently opened fire, hitting one of the Whit

wells in the buttocks and the other in the abdomen.

Not long after the shooting, the police arrested the rapper at his hotel and charged him with two counts of aggravated assault. The following day, he was released on a $55,059 bond and the officers were released from Atlanta's Grady Memorial Hospital, where they were treated for their injuries

.
Agnant and Shakur quickly bonded and socialized regularly, including attending Manhattan's famed Scores strip club on November 6, where the two watched the heavyweight title rematch between then-champion Riddick Bowe and Evander Holyfield, drinking $2,600-a-bottle Louis XIII de Remy Martin cognac in

the club's VIP room.
The two enjoyed a symbiotic relationship wherein Agnant supplied marijuana, women and protection, while Shakur closely observed Agnant in order to prepare for his role as a New York gangster in his upcoming film, Above the Rim. Despite the fact that he'd starred in two feature films and had hit songs in heavy radio rotation, Shakur didn't yet have entree into as many popular nightclubs as Agnant. Agnant reported

ly also bought the actor his first Rolex watch.
On November 14, 1993, Agnant accompanied Shakur to the now-defunct, upscale Manhattan nightclub Nell's -- an exclusive, celebrity-magnet that frequently turned away stars such as Don Johnson and Cher. An associate of Agnant introduced Shakur to 19-year-old Ayanna Jackson, who performed oral sex on the actor on the dance floor within half an hour following the introduction

.

Afterwar

ds,

Shakur invited Jackson to his suite at Manhattan's posh Le Parker Meridiean hotel. Four days later, Jackson returned to Shakur's suite, where Shakur; Agnant; Shakur's road manager, Charles "Man Man" Fuller; and another man were already present. Hours later, Jackson accused Shakur, Agnant and the others of gang-rape. Shakur, Fuller and Agnant were arrested four days later and charged with three counts of first-degree sexual abuse, sodomy, and illegal possession of a firearm. Agnant's attorney, Paul Brenner, had his case severed from Shakur's, and reportedly, Shakur, suspicious of Agnant's motives,

began to distance himself.
In November of 1994, while clubbing with friend and fellow-actor Mickey Rourke, Shakur voiced his concerns. He told Rourke's friend, Daily News reporter A.J. Benza, that heavyweight boxing champion

Mike Tyson had called him from prison to warn him about Agnant.

Benza s

ubsequently reported that Shakur also believed that Agnant had set him up.
On November 30, at approximately 12:25 am, Shakur was shot five times during a robbery in the lobby of Manhattan's Quad Recording Studios

by two armed perpetrators

.

Shakur had been invited to the studio by James "Jimmy Henchman" Rosemond in order to record a song with rapper Shawn "Little Shawn" Wilkins -- for whom Rosemond was acting as manager. Shakur, who was being accompanied by Randy "Stretch" Walker (Walker was shot twice in the abdomen) and another man when

he was shot, had been introduced to Rosemond by his associate, Agnant.
On December 1, both Shakur, who appeared in court in a wheelchair and heavily bandaged, and Fuller were found guilty of two counts of sexual abuse and acquitted of the other charges. Shakur was sentenced to 18 months to 4 and one-half years in prison on February 7, 1995. Agnant received three years of probation and a $1,000 fine in exchange for pleading guilty to two misdemeanor charges. Shakur served eight months before being released on bail, pending

an appeal, that October.
Shakur later impl

icated his friend, rapper Christopher "Notorious B.I.G." Wallace, who had previously warned him to distance himself from Agnant, in his shooting.
Agnant, meanwhile, became a record executive in early 1995. He was hired as Director of A&R by childhood friend, Lance "Un" Rivera, CEO of the Undeas Recordings rap label. Rivera's business partner and co-owner of Undeas happened to be Wallace. The two co-founded the company in 1993.
Agnant and Wyclef Jean
Shakur was murdered in Las Vegas, Nevada in September of 1996. His first posthumous album, The Don Killuminati: The 7 Day Theory was released on November 5 and contained the song, "Against All Odds", on which he accused Agnant of being a federal informant and both Agnant and Rosemon

d of setting him up.
In 1997, Agnant filed a libel suit against Shakur's estate

;

Shakur's former label, Death Row Records; and parent

-company

Interscope Records seeking $200 million. The suit claimed that Agnant feared for his life and that his employment opportunities were hindered si

nce the release of "Against All Odds". The suit was dismissed on December 16, 1998.
Agnant and Rosemond reportedly ended their association on bad terms following a shoot-out with each

other in Miami, Florida.
Agnant and Waka Flocka Flame
In 1999, Agnant was hired as security by music executive Steve Stou

te, following an altercation with Sean "Puff Daddy" Combs, in which Combs assaulted Stoute with a champagne bottle.
In the early 2000s, Agnant worked as a music manager, representing recording artists such as singer-songwriter Gio Washington (

then known as

Governor). Agnant was instrumental in securing Washington a recording de

al with Atlantic Records.
Agnant was incarcerated in 2004 after shooting a man following an altercation at a nightclub on Los Angeles'

trendy Melrose Avenue.

He was

deported to Haiti in 2007

.
Tupac Shakur (left) and Ayanna Jackson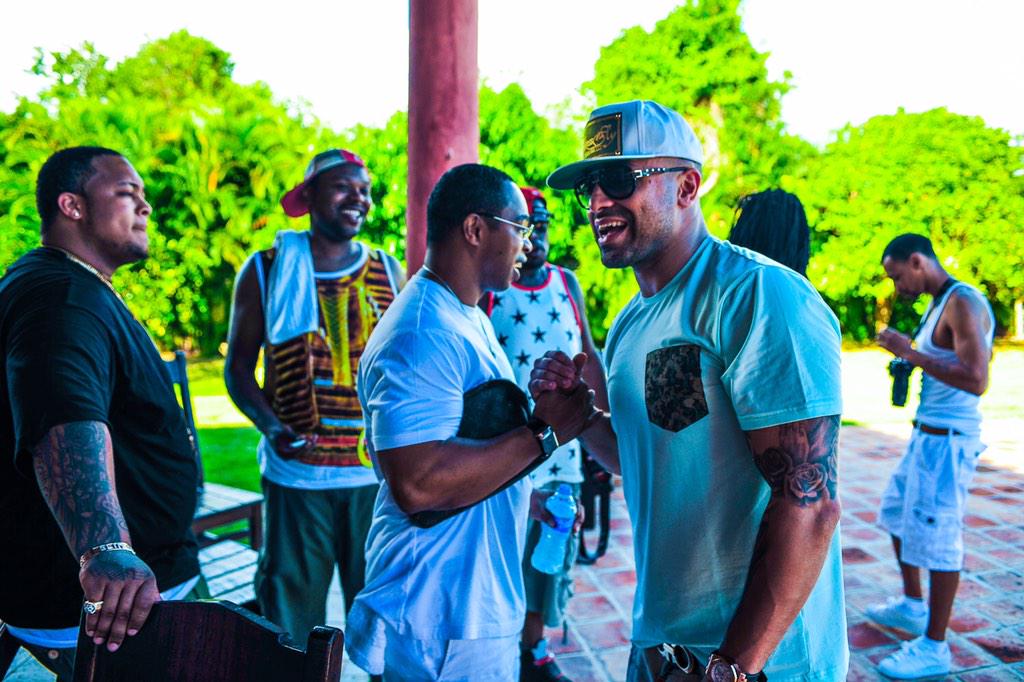 Related:
The Infamous...Walter "King Tut" Johnson
The Infamous...James "Jimmy Henchman" Rosemond